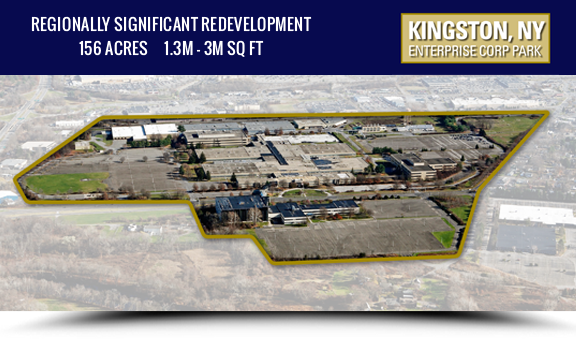 ULSTER COUNTY, NY: Princeton Chosen as Exclusive Broker for Enterprise Corporate Park in Kingston, NY

KINGSTON NY, March 30, 2016 – Princeton Realty Group is honored to have been recently selected to represent Enterprise Corporate Park in Kingston NY. The Hudson Valley property, situated on the site of the former IBM plant, is zoned and approved for mixed use and includes a rail connection. Its 13 buildings have roughly 1.3 million sf of existing industrial, office and flex space. With the ability to redevelop the property to 3,000,000 sf to incorporate residential, hospitality and community uses, Enterprise Corporate Park is the Hudson Valley's most significant redevelopment and the opportunity to create a new, revitalized Kingston. The property has long been targeted for development or can offer a user new home with an existing rental income to offset expenses.
Significant facts:
– Buyer would be acquiring the largest industrial-zoned property in the greater Kingston/Hudson Valley region. Redevelopment could change both the face and fortunes of the town and surrounding area. It has the potential to be a massive economic boon to Kingston and the surrounding areas, serving as a sorely-needed anchor since IBM's departure.
– The area also has large work force, rail, high capacity electric, water service and easy interstate access.
– Kingston offers a prime location between NYC and Albany, and within a 5-hour radius of most major East Coast commerce centers.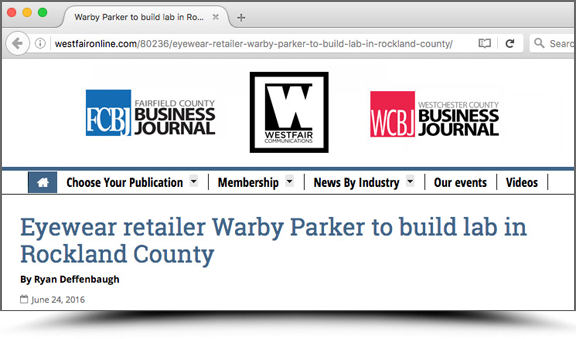 ORANGE COUNTY, NY: Princeton Assists Leading Retailer in Business Expansion

SLOATSBURG NY, June 15, 2016 – Adam Garber, an associate at Princeton Realty Group, recently finalized a complex lease deal to help a growing company expand their manufacturing capabilities. Warby Parker, a NYC- based leading eyewear manufacturer, was seeking a larger space in the tri-state area for their off-site optical lab. Garber found the location and brokered the lease for Warby Parker on a 34,000 sf facility in Sloatsburg, NY, in Orange County. Warby Parker, a rapidly growing company, is spending $15M on construction and the new, larger facility will ultimately have an economic impact on the area by creating more jobs and energizing the region.